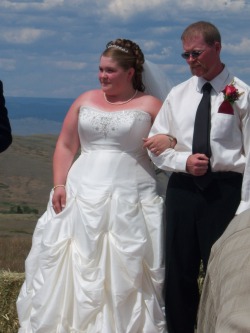 CONGRATULATIONS ON YOUR ENGAGEMENT AND UPCOMING WEDDING.

What better way to provide the backdrop for a country style wedding than at Grandview
Acres. We have 160 acres for you to choose your perfect outdoor setting for your
ceremony.

Grandview Acres offers the perfect combination of our wedding gazebo located in a setting of natural beauty and a large hall which will accomodate up to 150 guests for your reception.

Let us assist you with the availability of our large lodge facility -"GRANDVIEW LODGE", bar, wedding gazebo, wedding tent, stage area, P.A. System, commercial barbecue, bartending service,linens, wine glasses and assistance with catering and music options.

Use our wooded areas, breathtaking views, authentic round corral and landscaped area including an authentic antique wagon for your perfect photography shoots. Your photo memories will be beautiful.

Your guests can enjoy our camping area available for R.V.'s and tents.

If you choose, arrange to bring your horses or horse & carriage to be used for your
ceremony. We have facilities to house animals at our round corral. Hay & Water
available.

AFFORDABILITY FOR EVERYONE'S BUDGET!!!